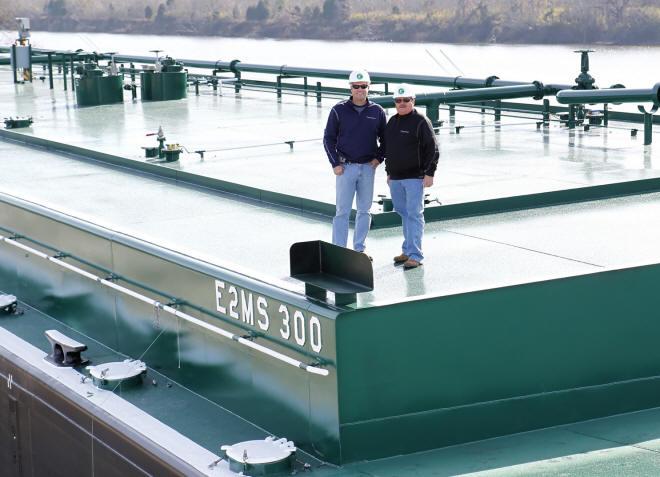 E Squared Marine Service, LLC ("E Squared") is a Houston based marine transportation and logistics company specializing in the transport of clean refined petroleum products and petrochemicals on the U.S. inland waterways. E Squared operates one of the nation's youngest fleets of inland tank barges and towing vessels and is vetted to for use by all major oil companies in the U.S. E Squared's primary operating range encompasses the Houston Ship Channel area, Gulf Intracoastal Waterway, and the Mississippi River and its tributaries, including the Illinois and Ohio Rivers.
In addition to operating tank barges, E Squared provides the below related marine services:
Barge Fleeting in Channelview, TX
Shore Tankering
Third Party Towing
Marine Logistics Management Services
Our mission is to provide our customers with simple and efficient marine transportation service. We are a team dedicated to delivering complete customer satisfaction, no matter the circumstances. We achieve this by ensuring compliance with our customers' requirements, providing outstanding communications, efficient operations, and striving to protect our customer's best interests and by treating all customers with the respect they deserve.
E Squared Marine Service, LLC strives to provide a safe and healthy working environment to all employees. Safety is a condition of employment, and we are proud of the safety-minded individuals we employ. We are always promoting and improving upon our safety culture through continuous improvement, constant training of our Quality and Safety Management, reviewing lessons learned and participating in customer safety programs. With safety as our TOP PRIROTY, we aim to reach the goal of ZERO Injuries and ZERO Incidents.
E Squared Marine Service, LLC puts a high value on reducing any environmental impact caused by our operations. We aim to achieve this by having ZERO spills, ZERO Releases, and operating equipment that meets or exceeds all regulatory or customer requirements. We train our employees in the importance of good environmental stewardship, how to responsibly operate equipment, and ways to minimize any risk to the environment.
E Squared Marine Service, LLC 2017
PO Box 324 | Friendswood, TX 77549